Become the ultimate vampire
Bloodhunt is a thrilling free-to-play battle royale game set in Prague consumed by a ruthless war between vampire factions. Use your supernatural powers to hunt and outsmart your rivals and Inquisition soldiers. Gear up, feed on potent blood to grow in power, defy gravity to strike from anywhere, and dominate the night!
STYLISH PREDATORS
Create unique looks for rivals to remember you by. Customise your appearance with stylish outfits, timeless hairdos, piercings or tattoos, and show off your personality with looks that truly kill. 
RUTHLESS DOMINANCE
Roam from the deadly streets to the rooftops of Prague preying on mortals to grow in power. Finish off or diablerise every enemy that crosses your path to be the last one standing.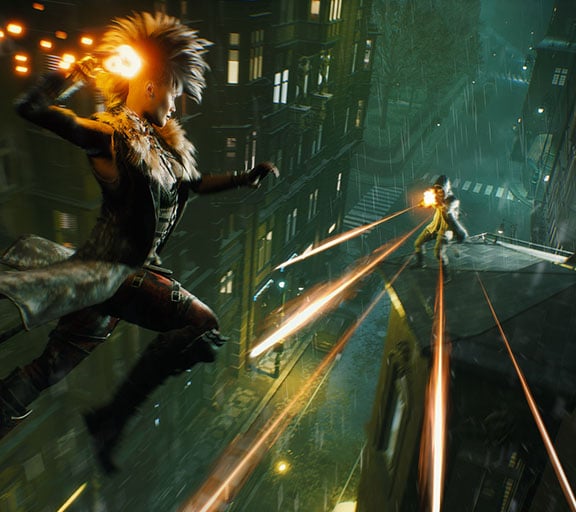 SUPERNATURAL WAR
Whether you prefer a sneaky surprise attack or dive straight into battle all guns blazing, choose your clan allegiance to define your play style with unique supernatural powers.
UNHOLY ALLIANCES
Hunt as a solitary predator or rally your friends to join you and head into visceral, fast-paced fights where teamplay and strategy are essential.
VAMPIRE: THE MASQUERADE LEGACY
Set in the World of Darkness universe, Bloodhunt draws from this grim version of our modern world where vampires hide in plain sight and fight against hunters, other vampires and their own worst instincts, all while struggling to maintain The Masquerade. 
Welcome To Prague, Kindred!
With Prague now in lockdown, vampires have no choice but to face their enemies. Fortunately, the gothic city offers lots of opportunities and terrains to evade, sneak in, and attack. You can also find a profuse amount of loot to defend yourself, and increase your chances to be the last Kindred